Life is precious and everyone should take precautions and steps to ensure their personal safety. People can be ignorant about fire accidents as none have happened around them but the damage if one's home has gone through a fire can be devastating and sometimes the loss of life and property is irreversible. Therefore, we want to suggest a few tips and areas that people should be aware of, so they can have a safer and happier home and take steps to prevent losses before they happen.
(1)   Knowledge about fire safety at home
It's seldom that we do not come across or use fire or heat source at home, be it for cooking or for warmth, therefore we should make sure we know how to use fire properly and understand the precautions that we should take at home when using fire or heat source of any kind. Most of the knowledge comes down to common sense and valuing one's life and property as well as others.
(2)   Steps to take for fire safety at home
Do not store large amounts of flammables at home
Clean range hoods and kitchen ventilator and other chimney ducts regularly
After using fire or a heater, make sure they are turned off properly when they are not in use or no one is around
Use non-combustible materials in your home when renovating
Use fire only in the kitchen or only in safe surroundings
Make sure corridors or exits are free from clutter
Do not play with fire or fireworks at home
Have a fire extinguisher at home so you can put out small fires if necessary and install smoke alarms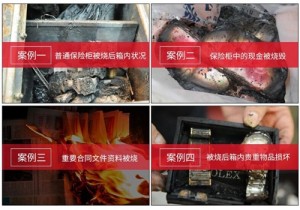 In the event when the fire becomes uncontrollable, call the fire brigade emergency number and escape out of the house. Do not attempt to go back to take any belongings as fires can take hold in a matter of seconds and exits can be blocked, leaving you helpless. People and families should invest in a fireproof safe box to store their valuable belongings. The safes can help to keep its contents protected from fire damage until the fire is put out, giving you a peace of mind as you escape and preventing you or other members of your family from running back in. A fireproof safe box is like an insurance policy, you do not want to ever use it but you want to have it when you need it and not regret not having it after a fire accident has happen. Guarda Safe is a specialist in fireproof safes and chests and our certified products can help you protect what matters most.
---
Post time: Sep-16-2021